Windows 10 Keyboard Shortcuts You Must Know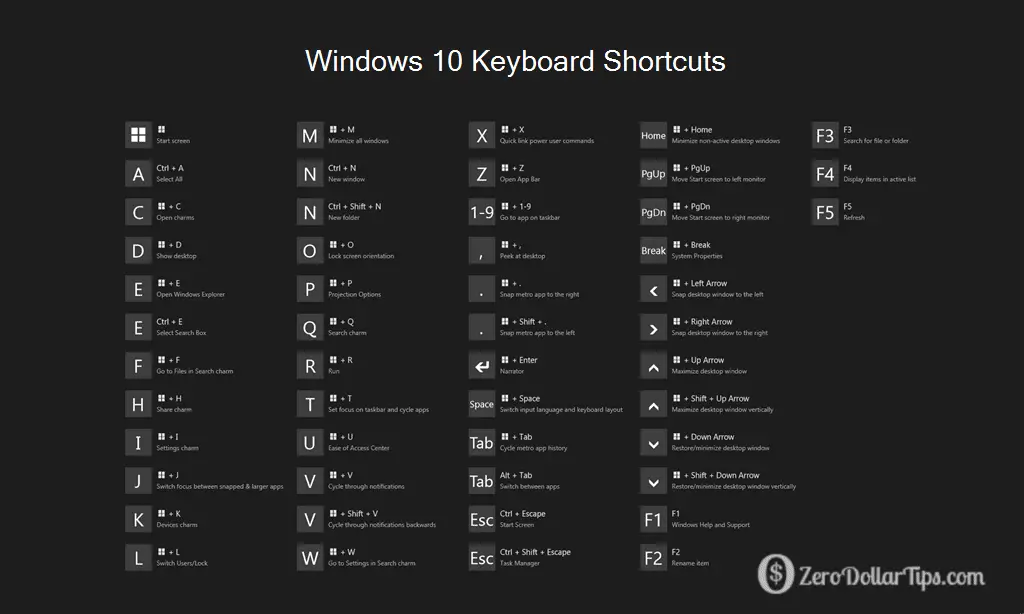 Windows 10 comes with a Lots of keyboard shortcuts to help people with their daily and repetitive tasks.By default, keyboard shortcuts are used to perform the tasks of the computer faster than using a mouse.
Keyboard shortcuts can help you increase your productivity and make your computer more efficient in using it. Here Are Some collected keyboard shortcuts for Windows 10, command prompt and internal work.
Windows 10 Keyboard Shortcuts
Win + I
You can quickly open the All Settings window using this simple shortcut. Microsoft is gradually uniting all control panel items with the Modern Settings app, so this is one of the most useful shortcuts in Windows 10.
Win + A
The best thing about Windows 10 is its Universal Notification Center or Action Center. By using keyboard shortcut "Win + A", you can easily open and view all current notifications in the panel. No need to click that small icon on the taskbar.
Win + S
Cortana, which serves as a personal digital assistant, is the largest addition to Windows 10. To launch Cortana quickly, you can use this keyboard shortcut. When you do, Corta's keyboard launches into input mode, which means you can type in your search query, and Corta will find it both on your PC and on the web.
Win + C
This shortcut also launches Cortana, but the difference is that the above host launches Kottana in keyboard input mode, but this shortcut will launch kottana in listening mode. This shortcut is very useful if you have not enabled or activated the "Hey, Cortana" feature.
Win + Ctrl + D – Add virtual desktops is one of the best things to do with Windows 10.
Win + Ctrl + F4 – You can use this shortcut to quickly close the virtual desktop. Don't worry – Any open applications in virtual desktops will be transferred to the main desktop workspace.
Win + Tab – This shortcut lets you access a new Task View feature in Windows 10 that shows all your open applications and your virtual desktops. Launch Windows + E – File Explorer
Some other commands
Windows + L – Lock your PC
Windows + K -Connect to Wireless Devices
Windows + PrtScn – Take screenshot
Ctrl + Alt + Tab – This quick shortcut allows you to view all the apps that are currently open on your desktop. It looks like "Alt + Tab" but you need to use your mouse or arrow key to select the application.
Shift + Left / Right / Up / Down – Moves the cursor, type on the letter, line or line, select text on the way. Continue pressing arrow keys to select more text.
Ctrl + Shift + Left / Right – Moves the cursor to the left or right, selecting the word on the way.
Shift + Home / End – Moves the cursor to the beginning or end of the current line, selecting text on the way.
Shift + Page Up / Page Down – Moves cursor up or down the screen, selects text.
Ctrl + Shift + Home / End – Moves the cursor to the beginning or end of the "screen buffer", selects all text between the start or end of the output of the cursor and command prompt.
Command Prompt Shortcuts
Microsoft in Windows 10 made some small but welcome improvements to the good old command prompt. Here are some shortcuts that help in daily activities.
Related :How to download Windows 10 lock screen images from Spotlight to your device??
Ctrl + A (in command prompt) – Most of you know what this shortcut does, select everyone in the active window. In the comment prompt, this shortcut works the same, all of which choose text.
Ctrl + C (in command prompt) – You can use the normal keyboard short "Ctrl + C" to copy text or output to the command prompt.
Ctrl + V (in command prompt) – You can use the general shortcut "Ctrl + V" to paste text or commands in the command prompt.
Ctrl + M (in command prompt) – Using this shortcut, you can enter the marker mode so that you can select text or output using shift and arrow key.
Read More