Microsoft has refreshed its Surface Pro line today. With the Surface Pro 7 Plus, this model will be for business and school only. While both its design and display will be As Pro 7  , Microsoft has a number of changes in the inner hardware. As it will have 11th gen Intel processor, big battery, removable SSD and LTE connectivity
This will once again see LTE connectivity in the surface which was first seen in 2015.
Surface Pro 7 Plus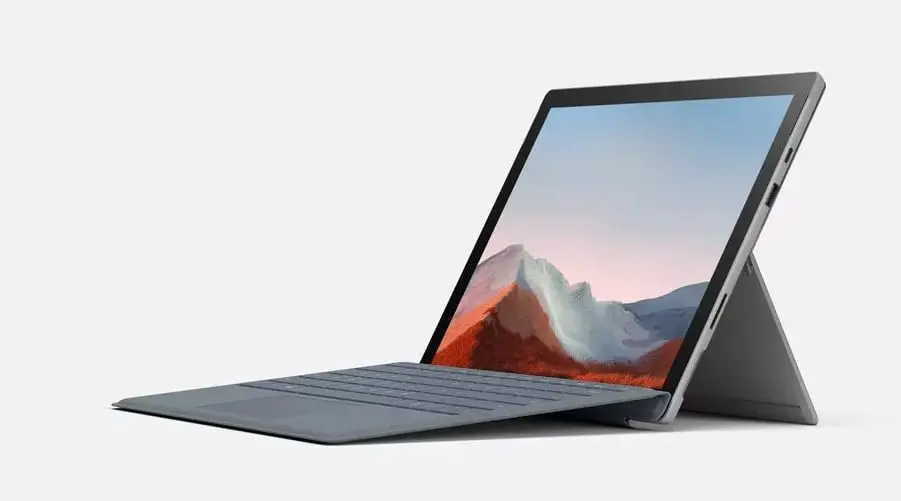 Thus a variety of models will be available ranging from intel core i3 (1115G4) to intel core i7 (1165G7). And the i5 model will have the option of optional LTE with a starting price ($ 1,149) and the base Core i3 will have 8 GB of RAM and 128 GB storage will be available which will cost (899). While the top core i7 can be upgraded up to 32 GB of RAM and 1 TB of storage.
Microsoft promises that the Surface Pro 7 Plus's battery will last up to 15 hours. A small part of the improvement in battery capacity goes to Intel's 11th generation processor.
The Surface Pro 7 Plus will have the same 12.3 inch (2736 * 1824) display as the Surface Pro 7 and will have a single USB-C  port and USB-A port, 3.5mm headphone jack, and the Surface Connect port. The WIFI model will have a MicroSDXC card reader, while the LTE will be replaced by a Nano SIM. From this it is evident that the Surface Pro 7 Plus does not have thunderbolt connectivity.
The Removable SSD will work in the same way as the Surface Pro X and Surface Laptop 3. Allows drives to be swapped to make businesses interchangeable.
Still, it's disappointing that a refreshed model with Intel's latest processors and LTE connectivity won't be available directly to consumers. Microsoft won't say if that will change any time soon, but it does feel like the company is trying to draw a line between the Surface Pro as business-focused and the Surface Go and Surface Pro X for consumers.
Microsoft is planning to start shipping in the US from January 15, followed by Canada, Australia, New Zealand, and the UK.