This year CES 2021 was virtually held and many new technologies And concepts were introduced.
So let's take a quick look at this year's CES
---
First, we are taking a look at intel's new 11th gen H-series processor
As per intel, this processor will be the lower end of the bracket, maxing out at 35W Processor.

The new Chip will also support Intel killer WIFI 6  Or 6 E, integrated thunderbolt 4 support, in memory, it will support in DDR4 at up to 3200 MHz and LPDDR4/X at up to 4,266 MHz.  as per intel this model comes with four cores, eight threads, and a boosted clock up to 5 GHz
---
AMD's 7nm Ryzen 5000 mobile processor
AMD announced it's new ryzen 5000 mobile processor and AMD CEO Lisa Su  called the series "the most powerful pc Processor ever built"
The U-Series is headed by an eight-core, 16-thread Raizen 7 5800U with a 1.9GHz clock speed that can accelerate up to 4.4 GHz. AMD claims that the chip is "the fastest productivity in the ultrathin notebook." According to the company's benchmark, the chip outperforms Intel's Core i7-1165 G7 by a factor of 1.23 over PCMark 10 and beats it in a subset connected to many office fee applications, including Excel and Edge (although PowerPoint has two chips tied, and Intel wins a lot (narrowed down on word).

The company also claims that the 5800U can offer 17.5 hours of normal-use battery life and 21 hours of movie playback. It will also be of great interest to AMD, but we will have a more accurate estimate once we try the systems.
On the H-Series side, the larger player is the Raizen 95980HS, which also has eight cores and 16 threads, but the 3.0 GHz clock speeds up to 4.8GHz. AMD says this is "the fastest mobile processor you can get." The 5980HS is several steps above the Raizen 94900HS, a monster chip that powers the Asus 2020 Zephyr G14.
AMD claims that the Raizen 95980HS defeats Intel's Core i9-10980HK on the Cinebench R20 in single-thread performance (601 to Intel's 514) and multi-thread performance (4349 to i9's 3892). It also hits the new Core i7-1185G7 in both cases
---
Nvidia announces $329 GeForce RTX 3060, available in February
Nvidia is today announcing its new 329 GeForce RTX 3060 card. While the company unveiled the RTX 3060T for just 9399 last month, this latest RTX 3060 add-on is designed to replace the aging GTX 1060 Pascal cards that many PC gamers still use today.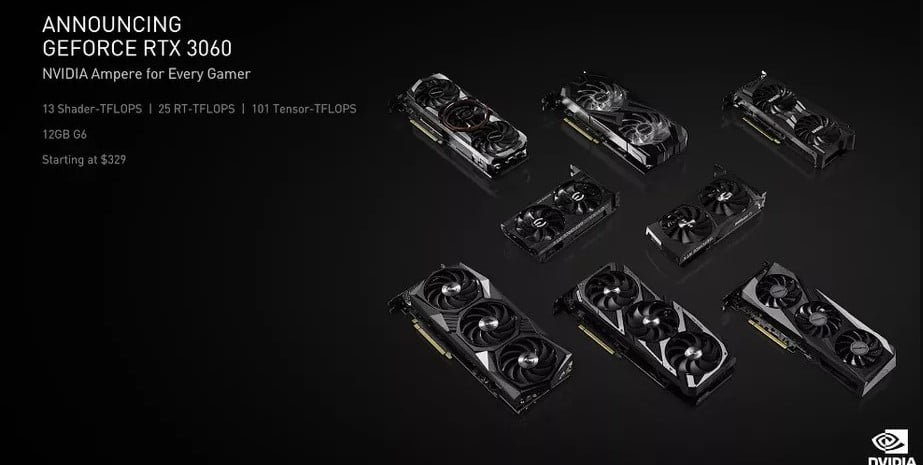 The RTX 3060 will include 12GB of DDR6 memory and Nvidia is promising 10 times more re-tracing performance with this card. This makes it very attractive for those who want to upgrade PC parts or complete machines. Like the rest of Nvidia's RTX 3000 cards, the RTX 3060 will also be able to use Nvidia's RTX applications and DLSS support.
---
Nvidia is bringing its RTX 3080 to laptops on January 26th
Less than six months after launching its RTX 3000 series GPU for desktop PCs, Nvidia is bringing RTX 3060, RTX 3070, and RTX 3080 to gaming laptops. Thanks to the new Ampere architecture, Nvidia is promising to achieve greater energy efficiency, in addition to better performance than previous RTX 2000 series laptops.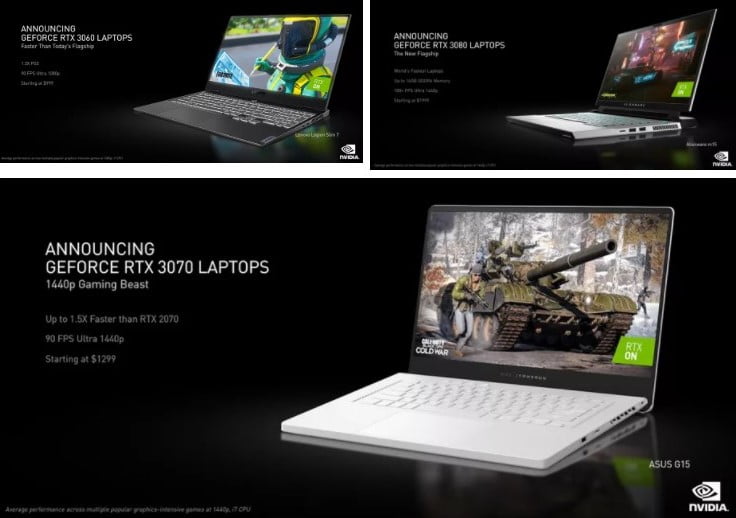 Over 70 gaming laptops with the new RTX 3070 and RTX 3080 mobile GPUs will follow on January 2, RTX 3060 laptops on February 2. Prices for the RTX 3060 model start at 999.
---
Asus' 2021 laptop line includes two new dual-screen ZenBooks
Asus has announced two new dual-screen ZenBook Duo laptops as part of the slate of CUS 2021 announcements. The 15-inch model will be available in North America in April this year, but you can order the Sovereign from January 14 to January 14, which will ship on January 22. There is also a new Vivo book and a new express book for people. Looking for a light and portable shopping.
If you're new to the ZenBook Duo line, the laptop has a built-in screen (regular) as well as a secondary screen (ScreenPad Plus) on top of the keyboard deck. It's not really too big to do anything, but you can load your distractions (Twitter, Discord, etc.) to keep it away from your main workplace. Some Adobe programs also offer a screenplay-specific interface.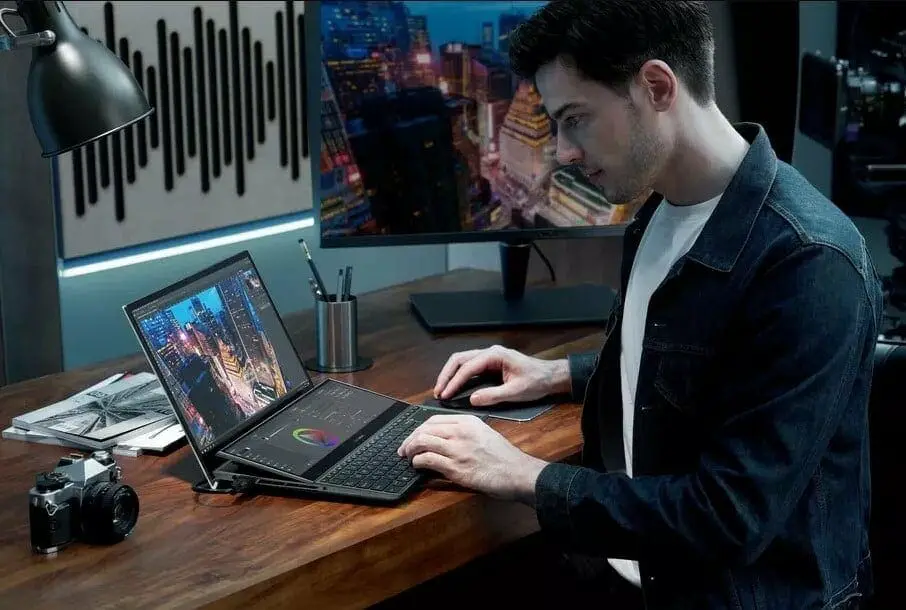 Asus ZenBook Duo line getting good promoters and Nvidia graphics chip
The 15.6-inch ZenBook Pro Duo 15 OLED Dual-Screen is an update to the ZenBook Pro Duo 15, a 15.6-inch dual-screen laptop with a primary OLED display. There's also a 14-inch model, a sequel to the regular Zenbook Duo that surfaced last year. This model can be tested by Intel's EVO program, which means it has better performance, battery life, and other features.
Both Duos got a special bump: the Pro Duo 15 OLED now features Intel's 10th General Processor (up to a Core i9) and Nvidia's latest GFRS RTX3070 mobile GPU. The Zen Book Duo 14 now includes Intel's 11th generic processor (a Core i7 or Core i5) with Iris Z integrated graphics (and you can also add an Nvidia GeForce MX450 GPU).
---
MSI's new GE76 Raider Dragon Edition Tiamat is a tribute to an ancient goddess
If you're confused, deal with it – this kind of thing is chatty of MSI. Last year, the company released a "Dragonshield Edition" of its GE66 Rider, built just like a spaceship. (Or rather, a panel that fell from a spaceship. There's a story and it comes with a model, that's the whole thing.) Hey, it may not be for everyone, but I like that company. The thinking is big.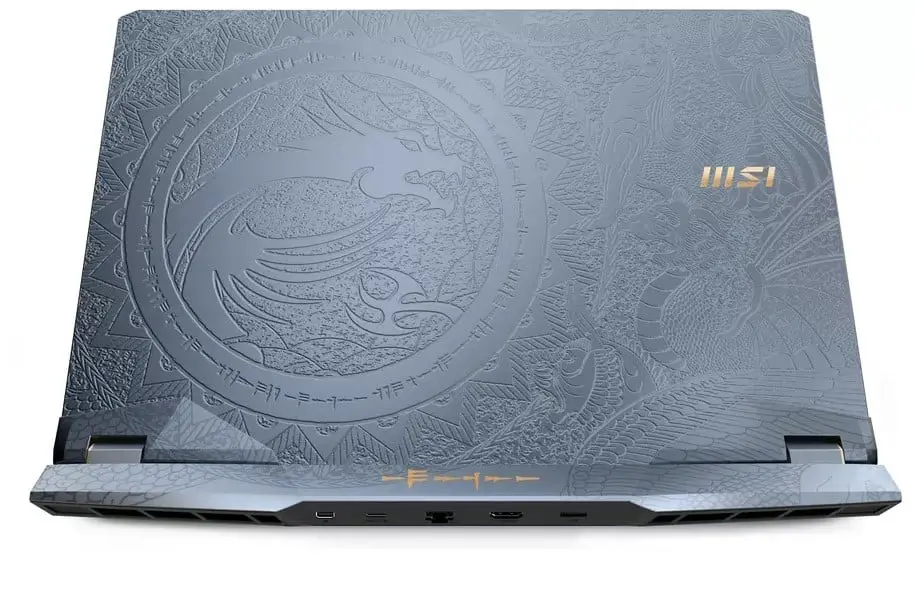 In addition to the Dragon version, MSI has unveiled several other devices for the GE GE Rider series, including the regular GE76 Rider (an interesting id design) and the updated 15.6-inch GE66 Raider.
The big news is that GE Riders have been upgraded to Nvidia's new GeForce RTX3000 graphics card. GE66 and Dragon versions may include RTX 3070 or RTX 3080; The standard GE76 also goes down to 3060. This means they have access to Nvidia's advanced technologies, including Resizable BAR technology and Dynamic Boost 2.0 (which uses AI to balance power on a frame basis between AI, CPU, GPU, and GPU memory.) Happens. The new riders will pair that GPU with Intel's 10th Gen Core i7 processor (Core i9 option in the Dragon version). MSI claims that the laptop "can handle all Triple-A games effectively."
---